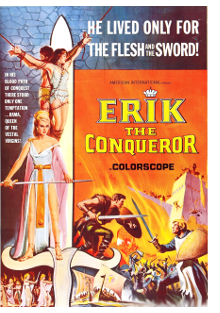 Hello!
Arrow Video has a strong disc line-up for August, starting with Re-Animator but continuing with Frankenheimer's Ronin, Bryan Yuzna's Society and Mario Bava's Erik the Conqueror. Now I'll have to break out my A.I.P. 'Erik the Conqueror' poster.
Olive Films in August is said to be giving us Blu-rays of two seasons of the old Flipper TV series, which I can sheepishly report being a fan of at age 13 or so — I saw the movie and liked the song, I guess. They're also putting out Larry Cohen's blaxploitation gangster pic Hell Up in Harlem. Finally, Olive has a disc of Orson Welles' The Stranger on the way. If it's licensed from MGM it ought to have a much better image than past discs – I've seen MGM's master and it's beautiful.
Gary Teetzel enlightens us with an interesting link from the Golden Age of Live Television: remember the rather good Toho horror fantasy Matango aka Attack of the Mushroom People? Now on YouTube is a copy (a poor one, unfortunately) of a 1958 episode of the TV series Suspicion called Voice in the Night. It's an adaptation of the William Hope Hodgson story that inspired Matango. A synopsis:"The survivors of a shipwreck escape to an island where a strange fungus grows on everything." Arthur Hiller directs an impressive cast: Barbara Rush, James Donald, Patrick Macnee and James Coburn. Joan Harrison (assisted by Norman Lloyd) produced for Shamley Productions; Robert Boyle did the production design. Not too shabby, huh? Skimming through I can see that the YouTube copy is pretty bad. The first several minutes are so dark that it might as well be a radio show. But with these actors we can recognize the voices!
Finally, for the wedding held at our house last week, artist Patrick Tsao designed personalized place cards for all the tables, each with a Mexi-Aztec design motif customized to the personality of individual guests. I looked at mine for a while before realizing that it beheld the likeness of a certain Irish movie monster. So appropriate!
Thanks for reading! — Glenn Erickson